NEW BROWN HAT REUNITES!!!
to fight Cancer
Oct 22nd at the Highline Ballroom
other performers include:
Edwin McCain, Chris Barron (of the spin doctors), DJ Jolina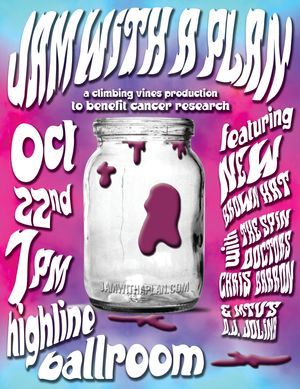 Jam with a Plan Tickets ON SALE!!!!
Bus Reservation (included with General Admission Ticket, but ONLINE RESERVATIONS REQUIRED!!!!)
(The best deal seems to buy tickets, have them at willcall and get bus reservations at website.  Ticktweb also has tickets but not the bus, which is FREE with a ticket purchase, but reservation is required)
Tickets and Willcall and Bus Reservations:  http://jamwithaplan.com/
  Tickets and Willcall:http://www.ticketweb.com/t3/sale/SaleEventDetail?dispatch=loadSelectionData&eventId=3203255
Follow on Facebook
  http://www.facebook.com/pages/Jam-with-a-Plan/119914538061318
New Brown Hat came onto the 90's music scene officially between 1992-1998.  Members began playing together as early as 1986 in various groups and ensemble arrangements. Based primarily out of New York City, New Brown Hat was a part of a music scene characterized as jam band.  This was not always the best characterization for the band that developed a very song-based writing style.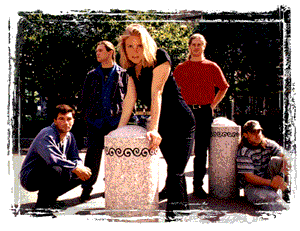 Focused songwriting and a female front vocalist, placed them on the edge of this landscape, thus crossing over between the singer-songwriter realm, pop-music, and the improvisational live scene in which they performed.  Such clubs as Wetlands Preserve, The New Music Café, and the Biter End, were mainstays for the band.
Eventually they sold out such well-known venues as New York's Mercury Lounge and nearly sold out 
IrvingPlaza
. 

The band's positive attitude and non-stop work ethic finally paid off in 1997 when they scored several coveted slots on that summer's 
H.O.R.D.E.
 tour. Since 1995, the band had appeared with the likes of Government Mule, Squirrel Nut Zippers, Neil Young, Beck, Blues Traveler, Ben Folds Five, Leftover Salmon, Arrested Development, Toad the Wet Sprocket, and Kula Shaker.
They sold over 10,000 copies of their live compilation Live to Dat and amazingly over 12,000 units of their independently released Dandelion Wine CD.  Additionally, the group nurtured on of the most personalized database system (unique at the time) with over 10,000 names on their mailing list, and independent distribution that kept Dandelion Wine stocked in over 125 retail stores from Maine to the Carolinas, including Sam Goody, Tower, and Strawberries (all prior to I- tunes).  New Brown Hat was one of the most sought after unsigned concert headliners on the east coast.
In the fall of 1997, lead vocalist Julie Prunier, departed New Brown Hat suspending a critical buzz around the band.

 

Searching for a female singer with substantial talent took over 6 months, yet led to the extraordinary talent of Julie Sparks.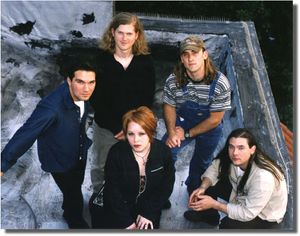 Sparks joined the band, bringing some of her own songs yet joining in with the collaborative process that produced such autonomous success.

 

This group produced one album Man Bites Dog
, which was only available online.

 

It received massive attention for an independent record produced within a short-time frame, 2 months.

 

New Songs such as By The Way
and Heart of Stone
displayed the bands matured and honed songs-writing talent, as well as derivative works on standards such as Redemption, Simple
, and Jealousy,
illustrated the maturity and aptitude of the musicians and the collective group.

 

This placed them in a unique category amongst the changing music industry of the mid to late 1990's.

 

Combined with the transition between vocalists, the group could not regain enough forward momentum and disbanded in 1998.

As of 2010 New Brown Hat occasionally plays live with member successfully involved in other musical endeavors.  Most notably Frank Kovac, with Kovac Brothers releasing a record in 2010 (Fell Herdeg on bass and vocals).   Additionally, a cancer benefit with New Brown Hat headlining  has been orchestrated by Craig Woerz for October of 2010.  To that end, New Brown Hat considers increasing the show schedule and the possibility of new recordings in the next 2 years.