1985 - 1994: Overture
New Brown Hat starts in grade school in 1985. By 1987 the original members - Frank Kovac, Jared Hart, Kyle Young, Craig Woerz andJulie Prunier all decide upon the name of their group - Steel Wood. In 1988 the band takes a big step with its first late-night barroom shows, which become immediately popular with its growing numbers of underage fans. SteelWood releases its first CD in 1990, and it sells 800 copies in just three months. Their touring schedule increases in both number of shows and quality of bookings, and The Bitter End in New York City hosts the first of many shows. Despite the pressures of its members all still being in college, the band vastly expands its touring schedule in 1991. Drawing deep on its hardy work ethic and the casual affection the five individuals realize the potential of professional success and careers in the music industry. 1991 also sees the band's first shows in the Southern U.S., as it plays colleges in Virginia and Georgia.
By the end of 1992, Steel Wood - the band and the idea- has become, well, old hat. The band becomes restless, and Jared's decision to pursue other musical directions leaves it a bass player short.The band finds a replacement for Jared, and in the spring of 1993 Fell Herdeg takes over the band's bass guitar duties. Fans old and new celebrate the group's reemergence as New BrownHat in April 1994. The group celebrates their change of name by playing a support slot for Arrested Development at Holy Cross, where they play to a crowd of over 4,000 people.
Opening for legendary acts like Government Mule (with former Allman Brothers regulars Warren Haynes and Alan Woody) gives NBH great exposure and experience. 1994 also sees the first-ever NBH St. Patrick's Day showin New York City. The band also begins regular appearances at New York City's famed Wetlands.
1995 - Hat City
Touring increases to 23 states, each of which receives the band in fine fashion as old fans follow along and new ones discover the delight of seeing NBH live for the first time. With stops in new clubs from Maine to Florida, NBH extends its reputation for fiery, powerful sets, glowing with joyous intensity.
"Live to DAT," the treasure of a long road's journey, is released to the grateful acclaim of loyal fans desperate for a souvenir of the many shows they've attended. The CD features a generous array of favorite performances, and also provides a brief preview of things to come, as the band begins work on a studio CD. 
1996 - A Mighty Fine "Wine"

New Brown Hat releases "Dandelion Wine," a definitive statement in ten songs of the band's vision and outlook. Craig, Kyle, Frank, Julie and Fell each contribute their unique individual talents to the disc,and are guided as a group by Brad Young, who molds the finished collection into a cohesive, well-produced disc. The CD is an immediate success with Hat fans everywhere, and as of May 1998, has sold over 12,000 copies.
The band toured extensively in support of "DandelionWine," playing nearly year-round at favored Hat halls throughout the Northeast, Mid-Atlantic and Southeast U.S.  Along the way, they promote the disc and establish their own distribution network of 140 stores from Atlanta, GA to Portland, ME. 
1997 -The Year of The HORDE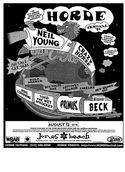 1997 was a turning point for the band. In May the band acquires a slot on The 1997 H.O.R.D.E. Festival. They play three dates on this National tour in August: Saratoga Performing Arts Center (SPAC) in Saratoga Springs, NY; Jones Beach on Long Island, NY; and the E-Center in Camden, NJ. This amazing experience helps NBH pickup many a new friend in these markets. Sharing the stage with performer ssuch as Beck, Blues Traveler, Neil Young and Ben Folds Five was an awesome experience and only wets the band's appetite for member, reaffirming their desire to play music and perform.
The band, on a high throughout the fall, finally wraps up their search for a manager in whom they can place their trust: DennisOppenheimer with the Performance Group. In the fall, however, the band faced a new challenge: Julie gives her notice and hence the search for the new and improved Hat begins. Frank Kovac reflects: "At first it was a shock that we didn't share the same goal. We even considered breaking up, but we realized we had more to gain by finding someone new." Seeing her departure not as a loss but an opportunity, New Brown Hat attacked the search. Covering the eastern seaboard the band listens to and sees 299 vocalists (59.80 vocalists per month over the 5-month period). New Brown Hat thanked all of those who helped, including former manager Dennis Oppenheimer, Jeff Cohen at BMI, Bob Donnelly, Ken Gorka at TheBitter End, everyone at Arlene'sGrocery (NYC), The Village Voice, The Boston and Providence Phoenix,Chris Nadler of Sam Goody/Musicland, Nick Ferrara, John Bell at Entourage, Monica Lewinsky, Jim Durkin at In-Phase Audio, The City Papers of Washington,DC, Baltimore, and Philadelphia, The Austin Chronicle, The Nashville Scene,Terry Kennedy at The Continental Club (NYC), and Barbara Powell at The BaggotInn.
1998 - Year of Transition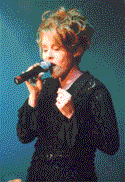 No shows were canceled, and in late March New Brown Hat found the perfect match - #299. The  new singer, singer/songwriter Julie Sparks, came from Nashville, TN, where she worked with Reba McEntire. She had also worked with Bette Midler in California. She has a powerful soulful voice,and a unique sound in which the group believed in.  Sparks joined the band, bringing some of her own songs yet joining in with the collaborative process that produced such autonomous success. This group produced one album Man Bites Dog, which was only available online.  It received massive attention for an independent record produced within a short-time frame, 2 months.  New Songs such as By The Way and Heart of Stone displayed the bands matured and honed songs-writing talent, as well as derivative works on standards such as Redemption, Simple, and Jealousy, illustrated the maturity and aptitude of the musicians and the collective group.  This placed them in a unique category amongst the changing music industry of the mid to late 1990's.  Combined with the transition between vocalists, the group could not regain enough forward momentum and disbanded in 1998.

As of 2010 New Brown Hat occasionally plays live with member successfully involved in other musical endeavors.  Most notably Frank Kovac, with Kovac Brothers releasing a record in 2010 (Fell Herdeg on bass and vocals).   Additionally, a cancer benefit with New Brown Hat headlining  has been orchestrated by Craig Woerz for October of 2010.  To that end, New Brown Hat considers increasing the show schedule and the possibility of new recordings in the next 2 years.